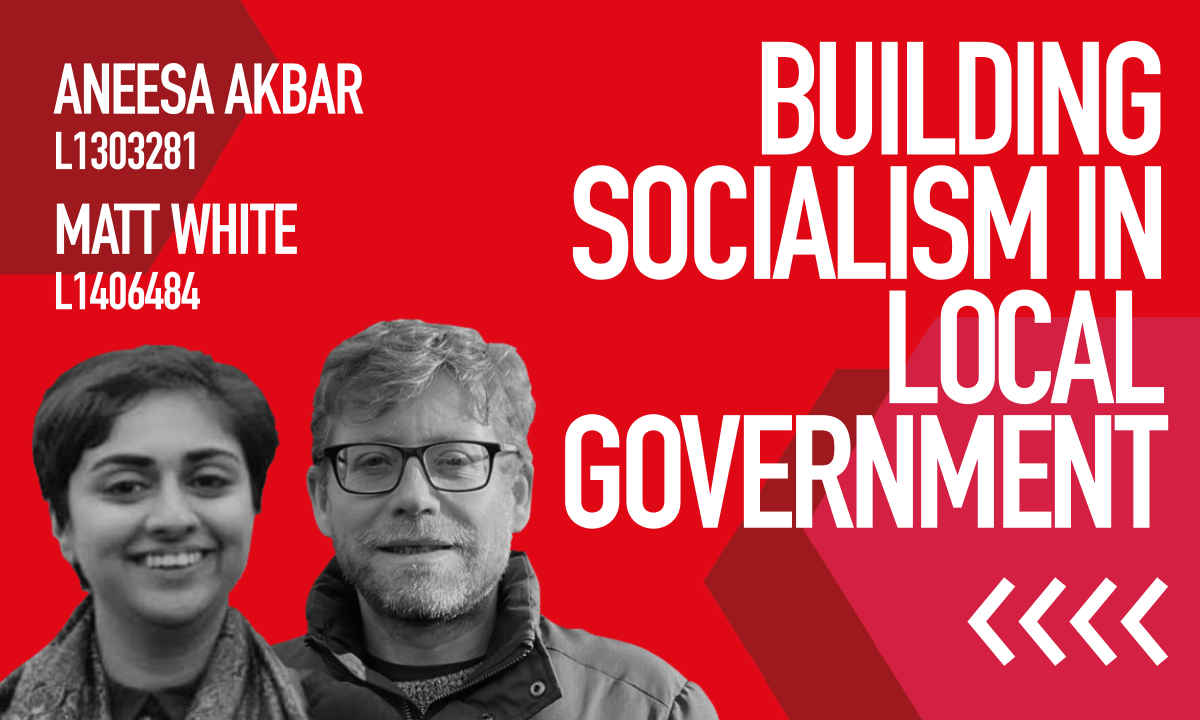 ARE YOU WITH US?
If you are a Labour councillor and want to see progressive and socialist policies implemented in local government, sign up to Momentum's Councillor Network. Subscribers to the Councillors' Network receive the following:
Access to training in Community Wealth Building and other progressive policy options

A Councillors' Newsletter covering the fantastic work done by councillors across the country

Invitations to meetups with other progressive and socialist councillors to discuss progressive policy options and strategies to achieve them in local government.
BUILDING SOCIALISM IN LOCAL GOVERNMENT
Out of power nationally, Labour can still make transformative change happen locally. Despite endless Tory cuts, Labour councils across the country can transform our communities and lay the groundwork for a General Election victory.
Principles of equality and solidarity must define our Party too. On too many councils, power is concentrated at the top, with backbench councillors having minimal say in policy. We would make sure all Labour councillors are listened to and their interests are represented on the NEC. And we would practise what we preach, with regular report backs and consultation calls to harness the ideas and potential of Labour's membership and local government base. Lend us your vote, and join the movement for municipal socialism.
WHAT WE STAND FOR:
Labour Councils are a key force in the battle for municipal socialism. Here's the programme we are standing on, and which we would push for in all corners of our Party if elected.
Community wealth building: Insourcing services and protecting workers 
After more than a decade of Tory cuts, we need to get creative to help our residents and revive our high streets. Pioneered in Preston, and North Ayrshire, Community Wealth Building lets us do just that, by supporting Labour councils to procure locally and ally with institutions anchored in our communities to do the same. We also need to deepen the insourcing revolution happening across councils, and backed by Labour nationally. Harnessing the power of public ownership provides better services, ensures more accountability, gives workers better pay and conditions and is a proven vote-winner, as Salford and Islington have shown. 
Labour councillors know just how acute the housing crisis has grown across the whole UK. There simply aren't enough council houses or genuinely affordable homes, while prices rise and rise. More people than ever have no prospect of owning their own home and are being forced to live in poorly maintained, overpriced and insecure privately rented accommodation. Meanwhile, councils are forced to pick up the bill for the failure of the private market, spending huge amounts of money to house those in temporary and emergency accommodation. We stand for public investment in council housing and support for councils to stand up to exploitative private developers – let's reclaim Labour's heritage and build council homes at council rents to provide our residents with secure homes they can afford.
Real respect for council workers
For too many council workers, their experience is marred by bad working conditions, whether it's discrimination or insecure employment. With Labour rightly calling for a ban on zero hours contracts and fire and rehire nationally, we would work to ensure that these practices are banned at a local level, too. We would also work with trade unions to make sure council workers can enjoy the wages, security and dignity they deserve, encouraging councils to promote union membership and employ staff directly rather than through agencies. 
Opposing racism and all forms of discrimination 
Racism, misogyny and other forms of discrimination are sadly still rife in our communities, and too often rear their ugly heads in local government. This is reflected in the wider community with younger people from ethnic minorities in particular feeling alienated from public authorities, including local government. We would take a firm position opposing all forms of discrimination and make sure that the concerns of councillors who are BAME, disabled, women, and LGBT+ are fully represented on the NEC. Likewise, as the Labour Party we can do so much more to support Councillors facing bullying, harassment and abuse, so that people don't have to suffer in silence.
A Green New Deal for our Communities
We can't wait for Labour to be in Government to start tackling the climate crisis. As many Labour councils have shown, we can take climate action now while making the places we live in cleaner, greener and fairer. Councils have a key role in determining how we deal with waste, how we travel and how we heat and insulate our homes. We'll support Labour in local government to implement climate-just policies, and work to platform these successes on the national stage. We need to insulate council homes and help private homeowners insulate their properties. We need to enable our residents to walk, cycle and use public transport more, while also investing in electric car charge points. 
Matt White
L1406484
Having campaigned successfully against the Haringey Development Vehicle, a plan to privatise land and demolish council homes, I was elected as a Labour councillor in 2018. Since being elected, I've worked collaboratively with my colleagues to radically change Haringey's approach: to build council homes at council – rather than so-called 'affordable' – rents, insource services, pay care workers the London Living Wage, increase Council Tax support, stand up to the Home Office in defence of homeless residents, expand free school meals for primary school children and much more.
I believe in putting my socialist principles into practice. Labour councillors in leadership roles in Labour-led councils can deliver genuine change that benefits the people Labour was founded to represent: those in insecure work, paid so little they can barely afford the over-priced, insecure and inadequate housing that's available. But I also want to amplify the voice of backbench councillors in Labour Groups nationwide, who have an important role in delivering Labour's policies on the ground in our communities. By building socialism locally and showcasing its success, we can lay the foundations for the election of the next Labour government.
Aneesa Akbar
L1303281
Elected onto Hull City Council for the first time in 2018, I am passionate about local government and the transformative change we can make in power. I support insourcing, investing in council housing, and learning from the examples of Preston and North Ayrshire to keep wealth in our communities through Community Wealth Building. In Hull, I have seen how progressive voices can profoundly improve the lives of people we seek to represent.
I have been involved in campaigns highlighting taxi driver abuse, working with trade unions and drivers to expose the appalling abuse suffered by those in the service industry, something that has been worsened by the pandemic. I also supported setting up a team to inspect privately rented housing to support renters being exploited by landlords.
As the only BAME woman Councillor in Hull I know that my presence has ensured that our policies and decision-making reflects all our communities and brings people together. If elected onto the NEC, I will represent backbench councillors and councillors from underrepresented backgrounds, whose voices go unheard all too often.


ARE YOU WITH US?
Sign up to Momentum's Councillor Network for newsletters, training opportunities and meetups with other progressive and socialist councillors